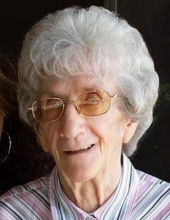 Obituary for Alice M. Mohr
Alice M. Mohr passed away Saturday, May 28, 2016 at Benedictine Manor, Wausau.

Alice was born January 1, 1927, to the late Frank and Bertha (Hildebrandt) Busko, Sr. Alice was the last survivor of her ten brothers and sisters. She was united in marriage to Donald 'Dinty' Mohr in November of 1947. He preceded her in death on December 31, 1990.

Dinty and Alice owned and operated the former "Dinty Mohr's Beer Bar" from 1954 until 1958. The bar is now known as Piggy's Pub. After moving to Merrill, they purchased Club 64 that they ran from 1963 until 1977. Alice then moved to Harshaw and worked at Pinewood Country Club before fully retiring. Alice enjoyed gardening, canning and fishing. She always caught the biggest fish! The grandkids loved her pickles. Alice was well liked and loved by many friends and family. She certainly had a non-boring life. Alice had many interesting stories and survival stories.

Alice is survived by her children, Ron (Sharon Feldmann) Mohr of Kronenwetter, Jerry (Jean Ballmer) Mohr of Merrill, Donna (Terry Loepfe) Mohr-Loepfe of Green Bay, and Denise Mohr of Rothschild; 13 grandchildren; 23 great-grandchildren; and one great-great-grandson. Alice was preceded in death by her parents; her daughter and son-in-law, Debbie and Dave Bornfleth; her daughter-in-law, Pam Mohr; her granddaughter, Becky Mohr Dorgan; and her siblings, Thomas, Frank 'Junior', Jr., Harold, David, Elroy 'Sonny', Lee and Gerald Busko, Cecelia Lepak, Katherine 'Kasia' Stubinski and June 'Tootsie' Vondrasek.

The family would like to thank the staff at Pine Crest Nursing Home, Merrill, the staff at Benedictine Manor, Wausau, and Aspirus Comfort Care & Hospice Services for the terrific care they provided their mother. They would also like to thank Roger Poblitz for his frequents visits with Alice.

A private family service will be held at a later date. The Taylor-Stine Funeral Home, Merrill, is assisting the family with arrangements.
Read More