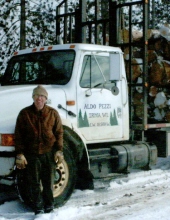 Obituary for Aldo E. Pezzi, Jr.
Aldo Pezzi, Jr., age 67, of Merrill, passed away on Wednesday, December 5, 2018 at his home after an over 3 year battle with neurological Lyme disease and stroke complications. Aldo was able to stay living at home with personal caregivers, his family, and hospice services support.

Aldo was born December 23, 1950, in Merrill, son of the late Aldo Sr. and Wanda (Widenhoft) Pezzi. Aldo attended Merrill Senior High School and was a graduate of Northcentral Technical College, Wausau, with a degree in Automotive. He was a self-employed logger and was often complimented for the great job he did in timber harvesting. Earlier in his life, Aldo was an avid motocross racer and competed throughout the state of Wisconsin. Aldo also participated in kart racing. Aldo enjoyed attending Merrill Blue Jay sporting events; open wheel and sports car races, especially at Road America; and auctions to find good buys. Aldo enjoyed watching Badger football and basketball and shows about cars. Aldo loved his many pet dogs throughout the years and his rural lifestyle. Aldo was an excellent mechanic and metal fabricator. Aldo had a great sense of humor that remained even during his illness. Aldo was a great brother who taught his younger sister to ride motorcycles, use tools, fix things and he will be deeply missed.

Aldo is survived by two sisters, Christine (Bill) Burchell, Athens, Alabama, and Michelle M. (Steve C.) Plautz, Merrill; two nieces, Theresa and Angela; two great nieces, Stevie and Chrissy; two great great nieces, Aria and Presley; a great great nephew, Lane; two aunts, Lydia Bauman, Merrill, and Deana Trinitapoli of Wisconsin; his special cousin, Alfred Pezzi, Tomahawk; and many other cousins.

Thank you to all the caregivers, relatives, friends, and neighbors for their prayers, support, help, and for every kindness.

Our deepest gratitude to Fay and the team she put together to help Aldo live at home to the end – Alissa, Anna, Cassie, Denise, Kim, and Sherry.

In accordance with Aldo's wishes, there will be no services. Taylor-Stine Funeral Home & Cremation Services, Merrill, is assisting the family. Online condolences may be made at www.taylorstinefuneralhome.com

Memorials in Aldo's name may be directed to a cause that is close to your heart.
Read More